Home - Sales - Parts - Contact Us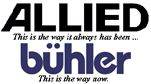 Page 1 of 2
You'll get a real lift out of this!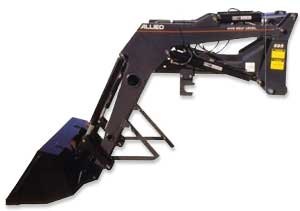 All loaders are equipped with bucket level indicator rod
Large joint plates at critical stress points
1/4" - 50,000 PSI Yield strength steel
Optional 2 way hydraulic self leveling
Laser cut components for consistent fit every time
Detach front end loader from tractor in 5 minutes
2 Torsion tubes for extra strength
Most mount brackets feature support bars to rear axle and full lenght side rails.
Parallel linkage increases rollback and dump angles. (available on 695 only)
Also offers an optional selection of custom paint to match most tractors.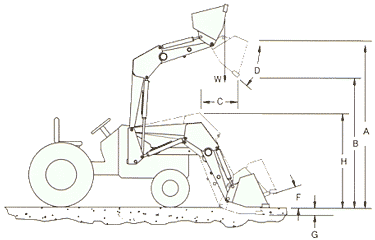 Item
Description
95
195
295
395 (S)
495 (S)
595 (S)
695
795 (S)
895 (S)

A

Maximum Lift Height [in]

80

92

114

120 (116)

130 (125)

139 (135)

161

163 (157)

172 (172)

B

Clearance with Bucket Dumped [in]

61

74

97

94 (90)

100 (96)

108 (103)

117

137 (129)

140 (140)

C

Reach at Maximum Height [in]

18

15

22

23 (27)

28 (33)

32 (37)

21

25 (34)

31 (31)

D

Maximum Dump Angle [deg]

44

40

25

30 (29)

38 (38)

41 (41)

60

32 (32)

40 (40)

F

Bucket Rollback Angle

15

23

32

30 (27)

24 (24)

18 (18)

32

19 (21)

21 (21)

G

Digging Depth [in]

3.9

3.3

2.2

3.4 (3.5)

5.5 (5.5)

5.5 (5.5)

5.0

4.0 (4.0)

6.6 (6.6)

H

Overall Height in Carry Poition [in]

50

53

60.9

62 (62)

71 (71)

79 (78)

84

84 (84)

89 (89)

W

Lift Capacity to Full Height [lb]
optional cylinder

545

995
1345

1460

1255 (1380)
2220 (2442)

1775 (1950)
2790 (3070)

2175 (2390)
3350 (3685)

3165

3100 (3410)

3005 (3005)
4415 (4415)

Break Force [lb]
optional cylinder

955

1540
2065

1850

1560 (1760)
2765 (3040)

2440 (2685)
3810 (4190)

3760 (4135)
5700 (6270)

5615

5705 (6275)

5305 (5305)
7610 (7610)

Lift Cylinder Size [in]
optional cylinder

1.5

1.75
2.0

2.0

2.0
2.5

2.5
3.0

2.5
3.0

3.0

3.0

3.0
3.5

Rated Pressure [PSI]

2000

2500

2500

2500

2500

2500

2500

2500

2500

Tractor Size (HP @ normal duty)

15-25

20-35

30-45

35-75

50-100

50-120

75-150

75-150

130-190

Bucket Size [in/cu feet]

48/6
60/7

48/6
60/7

60/11
72/13

60/15
72/19

60/19
72/23.8
84/27.0

60/19
72/23.8
84/27.0

60/19
72/23.8
84/27.0

72/27.0
84/30.5
96/37.3

84/30.5
96/37.3

Weight (with bkt & mtg kit) [lb]

475

775

1285

1515

2070

2190

2585

2760

3390